Okay, it's here: the fourth and final book in the Asteria series is out. If you've read Princess, I know you'll be wanting to find out what happens to Lucy!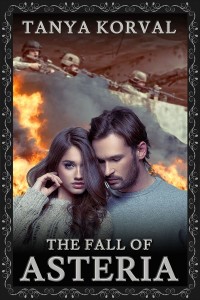 This one brings everything to a dramatic conclusion and ties everything up. I'm not telling you if there's a happily-ever-after ending: in fact, you may notice that there's not even an extract of this one on Amazon. I tried, but there was just no way I could do it without spoiling things! What I will say is that there's a definite ending: I'm not leaving things open for a sequel. If there are more Asteria books in the future, they won't be about Lucy and Jagor.
It's been a lot of fun writing this series: it's a bit emotional, actually, coming to the end of it. I might do a separate post about it in a few days, when I've had time to think about it.
The novel version, which combines all four books, will go live within the next few days. Remember that if you want to get it at a discount price, you need to be on my mailing list (there's a sign-up link on the right-hand sidebar).
Get The Fall of Asteria on Amazon.com
Get The Fall of Asteria on Amazon.co.uk