Thanks to everyone who commented. The giveaway prizes have been awarded and comments are now closed. Stop back over the next week for lots of guest posts and the awesome Insatiable Reads giveaway in which you can win a Kindle Paperwhite pre-loaded with 16 books!
A special post today, as part of the Rites of Spring Blog Hop. You can find lots of other cool articles over the next few days by using the links at the bottom of this post.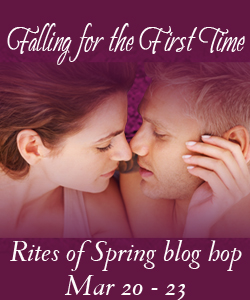 I have two giveaways for you. First of all there's the big giveaway for the blog hop itself. This has as its grand prize a Kindle Fire and as its runner-up prize a $50 Amazon gift certificate! Then there's a giveaway from me: I have three copies of The Elf Princess's Lover (Kindle version) to give away. To enter both giveaways, just leave a comment below with your email address (without that, I can't contact you if you win my giveaway!) AND then use the Rafflecopter widget below to let the blog tour organizers know that you've commented.
A Little About Asteria, my new novel…
His Lover
UN translator Lucy Snow sneaks into an embassy party and meets Prince Jagor, heir to the throne of the fabulously rich kingdom of Asteria. Their initial steamy kiss isn't enough for the prince: he offers her a job as his personal aide and in the glamorous hotels and casinos of Monaco, they engage in a secret love affair.
His Slave
But in Asteria, women are 'owned' by their men, both in and out of the bedroom. Loving Jagor will mean accepting his collar…and his every command.
His Princess
Lucy must overcome the Queen, the media and the will of the Asterian people if she's to be accepted as Jagor's bride. And when the royal family is plunged into danger, Lucy must become stronger than she ever dreamed…
In this blog hop, the idea is to talk about a first for one of our characters. I thought about choosing Jagor and Lucy's first kiss, or the first time they had sex. I thought about highlighting the BDSM aspects of the book with the first time Lucy wore a collar, or going with a steamy extract and doing the first time Lucy dares to try…nah, you're going to have to read the book 😉
Eventually, though, I settled on this. It's a scene from chapter 15, in which Lucy and Jagor make their first public appearance in Asteria as prince and Exkella (princess-to-be). I picked it because, for Lucy, it represents a dramatic shift from her normal life. She's always been shy, burying herself in the depths of the UN, head down and headphones on. When she begins her secret romance with the prince, her life changes: but at least the secrecy means she's seen as 'only' a royal aide and not subject to media scrutiny. When Jagor and Lucy go public with their relationship, though, she finds herself at the center of a media storm: everyone wants to know about the American plucked from obscurity: the woman who'll be their next princess. All this while she's struggling to come to terms with the ways of Asteria itself: and trying to deal with the ultimate mother-in-law from hell: the Queen.
An Extract
The photos of us in Paris had been gradually appearing on gossip sites and in newspapers over the last week. Ismelda had put out a carefully worded statement that confirmed that the Prince was engaged to an American woman. A separate statement confirmed that he was no longer seeing Calara: the exact timings were left vague. I'd been surprised there weren't more questions about the overlap: in America, the press would have mercilessly scrutinized every detail.
"Our press is a little different," Jagor told me, looking almost ashamed. "The royal family has a greater degree of influence than in some countries."
"Meaning you control the press?" I'd always believed in a free press. Now I was scared enough that total control seemed very appealing.
"More like they try not to offend us. It's not always a good thing: it can make it difficult to judge things, sometimes, when we have no real feedback. The foreign press can be useful for that: we have no control over them."
Great. It was going to be open season in all the newspapers back home.
Ismelda gathered us together, the King joining us at the last moment. She showed us into an old, stone-floored room with a large balcony at one end.
"You'll be on view from about halfway down the room," she murmured in my ear. "Stand tall and stay close to Jagor: keep an arm around his waist. Big smiles."
We walked in a line: The Queen, the King, myself and then Jagor. Just before we reached the halfway point, Ismelda whispered "Relax!" in my ear and then stopped, remaining out of sight while we walked on.
Relax?!
Jagor was taller than me, so he saw it first and I heard him draw in his breath. Then I was close enough to see over the parapet myself and I felt my mouth drop open.
We were perhaps four stories up, looking out of the front of the palace. Beyond the canyon that separated the palace from the city, a crowd stretched back at least as far as the first cross-street and filled our view left to right. There must have been twenty or thirty thousand people. Ismelda had done a very good job spreading the word that the Exkella would appear. Terrifyingly, they were there for me.
"Wave," the King said helpfully – if he hadn't, I think I would have just stood there, open-mouthed.
I waved, copying their practiced, lazy motion. Running through my head was I can't do this, I can't do this.
The crowd cheered; a wave of sound that rose up towards us. Jagor pulled me a little closer and they seemed to like that, too. Then he turned me and I realized he was going to kiss me.
A kiss? Is a kiss on the agenda? What sort of kiss? How sexy should we make it? We'd done it before at the Louvre, but this was different. Twenty shining camera lenses just felt intimidating. Twenty thousand watching faces was terrifying.
My fear lasted until I felt his lips on mine, and then as my eyes closed, the sound of the crowd seemed to die away and there was only Jagor, our lips moving slowly, his arms sliding around my waist and pulling me in. When we surfaced, the crowd were roaring. I waved again, dazed, and we were walking away.
Was that it? I wondered, did they stand in line and wait for hours just to see that? I felt like a cheat.
Want more? The full-length, 108,000 word novel is out now at all good ebook retailers (also available in paperback at Amazon).
Please leave a comment below so I know you stopped by. Would you put up with being the center of attention, if it was the only way you could be with the man you loved?
Don't forget your email address and don't forget to use the Rafflecopter widget to confirm that you've entered.

Click the happy frog to go to other posts in the blog hop!