As I've mentioned before, when I publish a book I like to cook to let off steam. For The Princess of Asteria, I wanted to do something a bit special. When I saw this recipe mentioned on Twitter, I knew I had to make it.
Credit for this recipe goes to the awesome Rachel of The Avid Appetite blog. Not only does she write fantastic recipes, I really respect the size of the wine glass she's holding in her profile photo.
While the recipe comes from Rachel, I actually found it through another recipe site, Allie's Clean Plate Club. You can check out Rachel's original recipe here or Allie's write-up of it here. They're both excellent.
Or you can follow my version, which is especially for Brits who don't understand what a cup is, romance writers who see gooey chocolate and start mentally writing scenes about heroines melting into the hero's arms and other moody people Of Russian Descent.
Presenting…
Pretzel Crusted Brownies with Fluffy Buttercream Frosting
Introduction
There are so many things to love about this recipe. It's both so utterly American and so completely wrong, there was no way I wasn't going to cook it. I was out buying ingredients within twenty-four hours of seeing it on Twitter, in preparation for the pubbing.
Firstly, the name. I mean, brownies? Not enough. Let's crust them with junk food. Let's ice them – no, not American enough. Let's frost them. No, normal frosting's not enough, let's buttercream it up. Not with any old buttercream: we're going fluffy with this bad boy. The name alone tells you everything you need to know about this recipe, and for that, I humbly salute it.
Secondly, the idea of it. It's just so fantastically unhealthy. I mean, brownies are bad for you, but the one thing they don't have in is lots of salt. This is a brownie with added salt. With icing on top. I like to think that if Gillian McKeith is an unstoppable force, this is the immovable object.
Let's get started. We're going to need pretzels. Lots of pretzels. We're going to go so gosh-darned American with this recipe, we only want authentic American pretzels. What have we got here?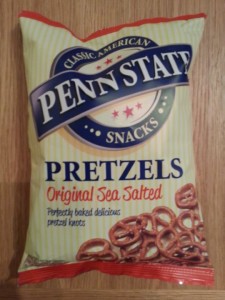 Penn State Pretzels: Penn State's in America, right? Right.
Ingredients
Let's have a look at the recipe. My additions for Brits in italics.
For the crust:
4C pretzels – This is an American recipe, so everything's in cups. I love the fact that America uses its very own measurement. It makes me want to bring back old money to Britain. Do yourself a favor and go and buy a cup measure. Tesco do them for about £5 – yes, I know, but you only ever need to buy it once and it makes these recipes sooo much easier. Don't try to use a cup – cups vary in size. Don't use a mug. Awful things will happen. 4C pretzels equates to a bag like the one above: you'll have some left over, but only enough to snack on after cooking. Om nom nom.
¾ C unsalted butter (1.5 sticks) – In America they sell butter in sticks, like firewood. In Britain we have bars, like soap. You will need almost two standard bars, total, for the whole recipe (crust, brownie mix and icing, all put together). Cut it into cubes and squish it into the cup measure to measure it out. Aren't you glad you bought that cup measure, now?
½ C sugar – use castor sugar
For the brownies (apparently this bit's adapted from BAKER'S One Bowl Brownies – it's a good recipe, if you ever need just plain brownies).
4 oz BAKER'S unsweetened chocolate (4 squares) I don't know what kind of crazy cooking chocolate bars they have in America, but the 'squares' must be colossal. 4 oz is about one full bar of cooking chocolate. Don't use normal chocolate: go and get some cooking chocolate from the baking aisle. It matters. Probably.
¾ C unsalted butter (already included in the 2 bars you bought above)
2 C sugar (castor sugar)
3 eggs
1 tsp vanilla – I assumed this was vanilla essence/extract. I got the posh stuff with seeds in it. If you do the same, remember to shake it first. I didn't. Oops.
1 C all-purpose flour – this is PLAIN flour, not self-raising.
For the frosting
½ C unsalted butter (1 stick), at room temperature – already included in the two bars you bought above. Make sure you don't put it in the fridge or you'll be trying to soften it over the gas like I was.
3 C confectioners' sugar – icing sugar
1 tsp vanilla extract – same stuff as above
1 Tbsp milk – not breast milk
Let's begin!
Instructions
Part 1: The Pretzel Crust
Preheat your oven to 400 degrees (Brits: that's 200 degrees centigrade)
Line a 13″ x 9″ baking tray with foil. Use your fingers to rub butter all over the foil until it's all squidgy between your fingers and the foil is thoroughly lubricated.
…
Sorry, I went a bit Nigella there. Grease the foil.
Rachel now blends her pretzels in a food processor. I don't have a food processor (or an ice cream maker, or one of those big fridges with an ice dispenser, or a pony) so I used a sandwich bag and a cafetiere (what the Americans call a French Press).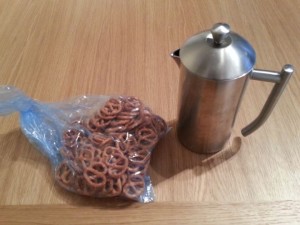 Bash the pretzels until they look like this: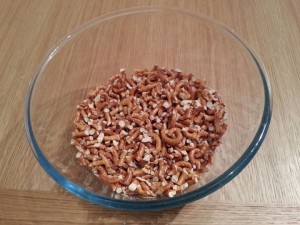 Melt the butter. Mix pretzels, sugar and melted butter together. You will have moist, sugared pretzels. Press them into the baking tray. They will stick to your fingers and refuse to bond together. Tanya, you will yell, Tanya, you crazy Russian, this is not a crust! Have faith. Just squish them down until they're level, like this: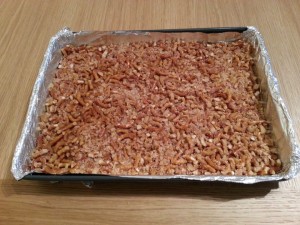 Now bake that for 10 mins. Keep an eye on it: you don't want the pretzels to burn.
When you take it out, marvel at how the sugar has magically glued everything together into a hard crust. Tanya, you will say, I will have faith in future. Let that be a lesson.
Part 2: The Brownies
Change the oven temperature to 350 degrees (180 degrees centigrade for Brits)
Now you need to melt the butter and the chocolate together. Rachel does this in the microwave. I did it on the stove. As long as you don't burn it, you're fine.
You now have a bowl full of nothing but chocolate and butter, melted together. Does that sound good? Would you like to see what that looks like?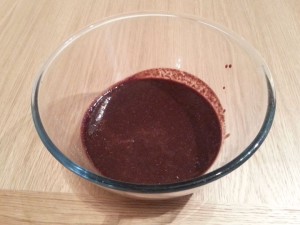 Note chocolate splatters in photo. Note also ugly chocolate tide mark. Food photography 7/10 Tanya, must try harder.
Now, a bowl of chocolate and butter isn't enough. Let's add some sugar. Two CUPS of sugar. Want to see that?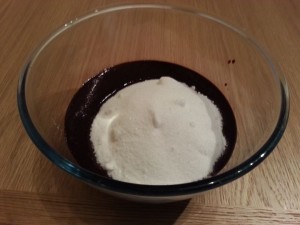 The sheer calorie density of this actually blew a bulb in my kitchen, which is why it's got darker.
Now add the eggs and vanilla (shake the vanilla extract if it's the posh stuff with seeds in) and mix well.
Now add the flour and mix. At this stage you have what I think the Americans call brownie batter. Don't eat it, because it has raw eggs in and as all Brits know, raw eggs will kill you. Now pour it over the cooled crust.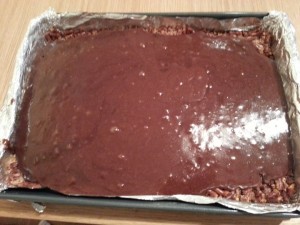 Now spread it out to the edges.
Bake it for 35-40 minutes. You're meant to cook it until a toothpick comes out almost clean. I made do with a fork. A fork's like four toothpicks, so it's better.
When it's cool, you can use the foil you put in the baking tray to lift out the whole thing, making it vastly easier to slice up later. Details like this are why Rachel's site rocks.
Part 3 – The (Fluffy) Frosting
Beat the butter until fluffy. I don't have Rachel's electric mixer (or her smile)  so I had to summon my grandmother's Russian peasant PRIDE in a HARD DAY'S WORK WELL DONE and BEAT IT until my arms hung like limp spaghetti from my shoulders. If, like me, your forgot to take the butter out of the fridge you will be cursing and trying to soften it over the stove at this point. Don't melt it – that's probably bad.
So: beat the butter until fluffy and then add the sugar one cup at a time until completely combined.
Then mix in the vanilla extract and the milk. Add more milk if you need to, to get the frosting soft but not runny. It hardens a bit in the fridge but it's not meant to go completely hard – it's frosting, not icing (think carrot cake).
Now cut it into squares and press a pretzel into each one. I like to think they look like little CND symbols. Then eat it.
Here's what mine looked like: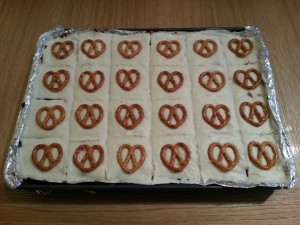 Close up showing the layers: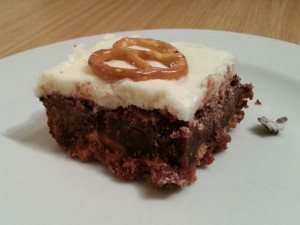 Phwoar.
These are incredibly good to eat. Thank you, Rachel!