Update: Thank you everyone for your comments! I've picked the winners and sent the gifts out. Comments are now closed. See you again for the 'Rites of Spring' blog hop in a few days!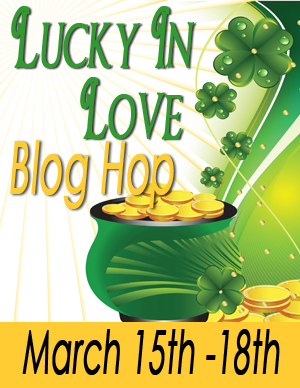 As part of the Lucky in Love Blog Hop (organized by the awesome Carrie Ann) here's a special post about love, luck and Lucy. I have two giveaways for you: there's a big giveaway as part of the hop that includes prizes of a $100 Amazon or B&N Gift Card and a Swag Pack of paperbacks, ebooks, 50+ bookmarks, cover flats, magnets, pens, coffee cozies and more!  The swag bag's only available to US readers, I'm afraid, due to the cost of shipping it, but the gift card is up for grabs internationally). Then I have my own giveaway: I have three copies of Music, my 5-star rated erotic romance, to give away (available on all popular electronic formats – I'll contact you after the hop if you win). That too is open internationally, to anyone over 18. To enter BOTH giveaways, all you have to do is comment below and include your email address.
Save for pure, dumb luck, Lucy and Jagor would never meet.
Let's go through the list, shall we? First of all, he's a prince. The only people he mixes with are royalty, the very cream of Asterian society and a few foreign politicians. He doesn't hang around coffee shops where he might just happen to bump into my heroine, Lucy. Should he require a Starbucks, his motorcade stops and one of his assistants brings him one. Queuing up to sprinkle vanilla on your latte simply isn't done when you're a prince.
Secondly, he lives in a tiny Central European state. When he does want to indulge in the playboy lifestyle – which he does, often – you'll find him in the Monte Carlo casino, or in Paris. All thousands of miles from New York, where my heroine resides.
Thirdly, Asteria is almost as secretive and isolated as North Korea. Life in the fabulously rich nation is very different to America: women are collared and owned by their men. Outsiders aren't allowed in and very few Asterians ever leave the country. It's not like Lucy can arrive as a tourist and meet Jagor on a tour of the palace.
And finally, he's not looking. Tradition has it that royalty can only marry other royalty – or at least the very top tier of society. He's not scouring the globe looking for a commoner to marry – and a commoner is what Lucy is.
And yet…and yet they get together despite everything that's against them. Let me take you on a journey to show you how fate intervenes.
Lucy works as a translator, buried deep in the heart of the UN, headphones on and head down as she transcribes speeches. She's reluctantly dragged along to an embassy party by her much more outgoing friend Gwen, using a couple of tickets meant for their bosses. They wouldn't have a hope of getting in, if Lucy hadn't brought the security guard coffee a few times when he pulled door duty.
Simultaneously, Jagor is on a one-off visit to the UN as he prepares to sign the very first treaties between Asteria and other nations. He's only in town for one night, flying off the very next day on his private 747. He's invited to the party at one of the West African embassies by a friend and – never one to turn down a party invitation, attends – just for a few hours.
But all that isn't enough. Just being at the same party won't create that magic moment that gets them together. Even if Jagor happened to notice Lucy across a crowded room, Lucy would run and hide. No, we need chaos to lend a hand. We need Louis, a hot guy Gwen's been chasing, to draw Gwen away. That leaves Lucy alone and distracted: distracted enough to bang into the Belgium ambassador and spill red wine down her dress.
Then she can run upstairs to find a bathroom, and find herself in the off-limits, private area of the embassy. We need the dress to be borrowed, from Gwen, so that she's so frantic in trying to wash the stain out, stripped to the waist in front of the sink, that she leaves the bathroom door open.
We need Jagor to be stalking the dark corridors at that very moment, like the barely-caged beast that he is. We need him to glance through the open bedroom door, straight into the bathroom, and see the topless Lucy in the mirror.
And when they meet, when he tries to get the measure of this strange and beautiful young woman he's run into…then we need just one more bit of luck. We need Lucy, languages whizz that she is, to have learned some of the Asterian language. Just enough that, as she's about to leave the bedroom, she says a few words in apology.
Because that's when everything changes.
That's when Jagor realizes he's met someone much more interesting than a mere translator. He's met someone he wants to be with: to make love to: to enslave. That's when he closes the bedroom door…and that's when everything starts.
An Extract
We stood there for a second, just looking at each other. I had time to notice things now, like how strong his hands looked. Or the way his pecs curved under his tailored white shirt. Or how the dark shadow of his stubble shone black in the warm light from the bedside lamps: again, I found myself thinking of an animal. If I kissed him, it would brush against me: would it be scratchy? It looked almost soft.
Why was I thinking about kissing him?
It occurred to me that we were both in a very dangerous situation here. Alone in a room with a closed door and the lights romantically low. If anyone should come in, it was going to take a lot of explaining to convince them it was innocent.
Is it innocent? I asked myself. What the hell is going on here?
I was very aware of the closed door, and his possible reasons for closing it.
"I should go," I said.
He just stared at me, the way a cat will stare at a mouse. My heart was thumping so hard in my chest, I was sure he must be able to hear it.
"I really think I should go." I tried to say it firmly, but my voice quavered. It wasn't fear: or if it was fear, it wasn't him I was scared of.
He gave me another one of those looks. Then he took a step towards me.
All I had to do was walk to the door and leave. Why was that so hard? But my legs felt like concrete, even my arms hanging limply by my sides. He took another step towards me, and now he was close enough that I could smell his aftershave. It was like nothing else I'd ever smelled: not like one of the scents you buy at a store, all alcohol and chemical scent. This was like open spaces and cold, hard rock and the wind: if the outdoors had a smell, this was it.
"I really think…." I trailed off.
He put one huge hand beneath my chin and used the edge of it, very gently, to tilt my face up to his.
"Don't think," he said softly. I didn't realize until afterwards that he'd said it in Asterian, because as soon as he'd said it, he was kissing me.
His lips were warm on mine, sending a jolt of heat rocketing down through my chest, blossoming in the very core of me. His chin was brushing mine, and his stubble grazed me. It was rough, but it felt good. He was bending down slightly to reach me, and I suddenly became aware that I was stretching up to meet him, my lips flowering open. I was kissing him back.
His breath was hot against me as he parted his lips, his tongue greedily seeking mine. It was the first time I'd been kissed in months. His hands were in my hair, stroking through the soft strands, his palms warm against my temples. Little shocks of pleasure were darting down through my body from everywhere he touched me, seeking my groin. He was starting something inside me, something primal and out of control, so strong it scared me.
He broke the kiss and leaned back from me. The loss of his touch was like a physical pain.
"Tell me you want me to stop," he told me: and he said it in English, not in Asterian, so there was no danger of me misunderstanding.
My chest was heaving: I was panting like I'd been sprinting, my eyes huge and wild, my face flushed. Between my legs, I could feel heat building, turning to wetness. I hadn't been this turned on in…I wasn't sure I'd ever been this turned on.
"Tell me you want me to stop," he said again, and this time I actually took it in. Not "Do you want me to stop?" Not a question. A challenge.
I focused on him, looked into his eyes, so he would know I understood and, with a lurch of my stomach, a flash of what the hell are you doing, Lucy? I kept absolutely quiet.
And then he was kissing me again.
This time his whole body pressed against me. I could feel the hard outlines of his muscles through my dress: his broad, strong chest, his hard leg pressing against my own soft thigh. He was so much bigger than me, towering over me, one arm slipping under my back to support me and – oh God – he was bending me backwards; my back arched, my breasts mashing against his chest. His lips lifted from mine, laying kisses along my neck and a shudder went through me. I felt like I was melting, dissolving into him. I felt like, if he let me go right at that instant, I wouldn't fall: I'd just float four feet off the floor.
His other hand was on my hip, and the warmth of it, so close to my groin, was making it impossible to think. I was gasping, moaning, my eyes fluttering closed, giving myself up to his touch.
We were spinning slowly around, as if dancing, and then the hard wood of the door pressed against my back. One of his hands thumped into the door next to my face, loud and aggressive, making me jump. He started nibbling and sucking on my upper lip and I groaned at the feeling, my breath coming in hot little gasps.
He slipped one hand under my dress and smoothed over my leg, just above the knee. His tongue was in my mouth again, my head pressed back against the door.
The hand slid up my thigh, higher and higher. He wasn't exploring, wasn't hesitant. He was moving very deliberately, and I sensed the only reason he didn't go straight there was to make me wait.
The heat was building inside me, a dark, twisting power focused right between my thighs. As he kissed me, his chest was rubbing against my breasts through the dress, my nipples throbbing, almost painfully hard. His hand reached my hip and I panted in urgency. Then he started to slide it, very slowly, around to the front—
"Lucy?" Gwen's voice, not three feet away.
My eyes flew open, my whole body spasming against the door, held tight between it and Jagor's body. I couldn't have moved if I'd wanted to.
"Luce?"
She was in the corridor, right outside. Jagor was kissing me, preventing any attempt at speech. I didn't want to speak: I just wanted him to pause for a 'sec, wait until she'd gone. If she caught us—
And then Jagor's hand slid all the way around to the front. He cupped my mons through the thin silk of my panties, the warmth of his palm going straight through them, and a quick, high cry escaped me.
A second's silence from outside. Then, suspiciously, "Luce?"
He stopped kissing me for a moment, but only long enough to smile. Then his lips were on mine again, and suddenly I had to dig my nails hard into my palms to stop myself from crying out, because his hand was slipping under the thin triangle of fabric and sliding down to rest against my moist lips.
He stopped kissing me again, and moved his head back a little. He wants to see my expression! I realized.
Two fingers were rubbing against the softness of my lips and I flushed red, knowing that he could feel how wet I was.
"Lucy?" Gwen's voice was right outside the door. "Are you in there?"
His fingers pushed inside me, stretching me deliciously around them, and my head lolled back against the door as my back arched. I forced myself to make no sound, even though I wanted to yell, to scream, to bang my fists against the door.
"Lucy?"
And then his thumb found my clit and circled and I was lost, both hands coming down to clasp his arm: whether to stop him or urge him on, I don't know. His fingers were moving inside me, his thumb stroking and rubbing and God I was bucking against him, suddenly over the edge, the orgasm ripping through me. Hot explosions were going off in my mind, destroying me, leaving no thought or sensation except what he was doing to me. Gwen was forgotten; the embassy was forgotten; my job was forgotten. All that mattered was him and me.
I could feel myself spasming around his fingers, my thighs clamping hard around his hand. I folded silently at the waist, my head on his chest. He held me under the arm with his free hand, easily supporting my weight: I would have collapsed if he hadn't.
When the shudders started to subside, I pressed myself back to standing, leaning heavily on his arm. My legs still felt like they could give way at any second. Reality started to slowly creep back, like awakening from a dream.
As if he knew what I was about to do, he gently removed his hands and stepped back.
I grabbed the door handle and wrenched it open, and then I was running down the stairs, heels loud on the polished wood, my heart thundering in my chest.
Want more?
The full-length novel (108,000 words) is out now at all good ebook retailers – also available in paperback at Amazon.
Check out some of the other awesome posts in the hop: http://carrieannbloghops.blogspot.com/