Today only, I'm slashing the price on The Elf Princess's Lover like an enraged warrior with a shining blade. Instead of the usual $2.99 or £1.99, you can pick it up for the next 24 hours for just 99c/79p – for a full 30,000 words of romance!
The Elf Princess's Lover is a full-on fantasy yarn and remains one of my favourites. If you're a LOTR fan, you'll feel right at home.  Expect sword fights, bandits, horse riding, inns with roaring fires and copper baths and a hero and heroine madly in love but divided by their cultures! Blurb and extract after the cover pic.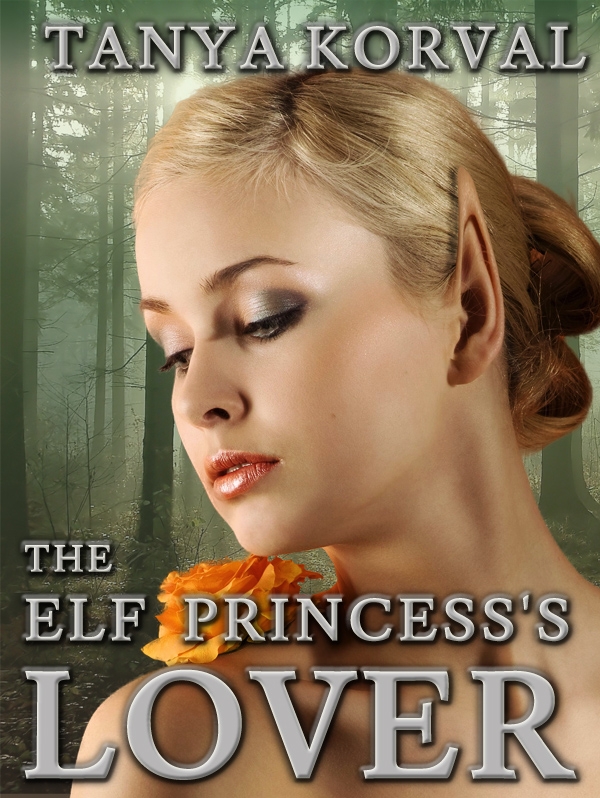 She is an elven princess…
A virgin who's only seen the kingdom from the safety of a tower window. When her caravan is attacked and her guards slain, her only hope for survival lies in a human.
He is a commoner…
A hired sword who blames the royals for the death of his family and detests everything the princess stands for.
Anger and distrust turn to desire…
Forced to work together to survive, the princess and her rescuer find themselves in love… and lust.
But their love is forbidden…
Will the princess risk the kingdom for them to be together… or will tradition tear them apart?
This erotic romance contains explicit scenes.
Here's an extract:
'You asked why I hate the royals,' he snarled. 'And I am telling you of your father!' He took another angry step towards her: they were a foot apart now.
'I am not my father!' she shouted, the words hot in her throat. The appalling level of her disrespect seemed to make them echo around the room like thunder, challenging her, ordering her to take them back. But she stood firm, determined, staring up at him with tearful eyes.
And suddenly he lunged forward and was kissing her, and her mouth was open and her tongue was joining his, the anger and lust mixing together into something far more potent than either. All the dark thoughts that had built while she bathed, all the desire that had wound up tight inside her since she met him, it all exploded at that second. They were both panting, half from hate, half from passion, and started laying kisses across each other's mouths and cheeks. Salranna was out of control and she didn't care. He, too, seemed lost in the fire, and that was much more frightening.
He pulled back, as if sensing her thoughts, and they stared at one another. His eyes were wild, but he gave her one last chance. 'Do not start what you cannot finish, princess.'
Two beats of her racing heart, and she lunged for him as he had for her. She knew, she knew, that she was doing something that could never be undone, that would change her life forever, and she no longer cared. Her lips met his, firm and insistent, and it was done.
He pulled her to him, his hands tangling in her long golden hair, twisting the wet locks around them. He was over a head taller than her: her head was bent back to kiss him, and that made her breasts press against him through the thin towel. She could feel the heat of her body soaking through the damp fabric, her flesh hot against his shirt.
He dropped one hand to the side of the towel, and with a low grunt pulled it from her. It fell to the floor, and suddenly she was naked before him, the first time she'd ever been naked in front of a man. He took a step back to look at her, and the feeling of being viewed so intently, of someone drinking in every detail of her, made her whole body seem to throb. Her mind screamed at her to hide herself, to put her arms across her breasts, to cover her groin, yet she stood there, arms by her sides, and let him look.
Her long, golden hair was plastered wetly down her back, emphasizing her high cheekbones and graceful neck. Her light tan skin was soft and unblemished, muscles honed by playful exercise, not labor in the fields. The finest foods, the purest spring water meant she glowed with good health and youthful energy, heightened now by her arousal. Her face was flushed, her full, soft lips parted, showing perfect teeth.
Her body was slender, as was typical for her kind, but the full ripe breasts and flared hips were more akin to a human woman. Already her nipples were hardening as Rafe stared at them, his gaze like a physical touch on her. A softly concave stomach led down to her smoothly toned thighs and the delicate curls of golden hair between them, barely concealing her soft, pink lips.